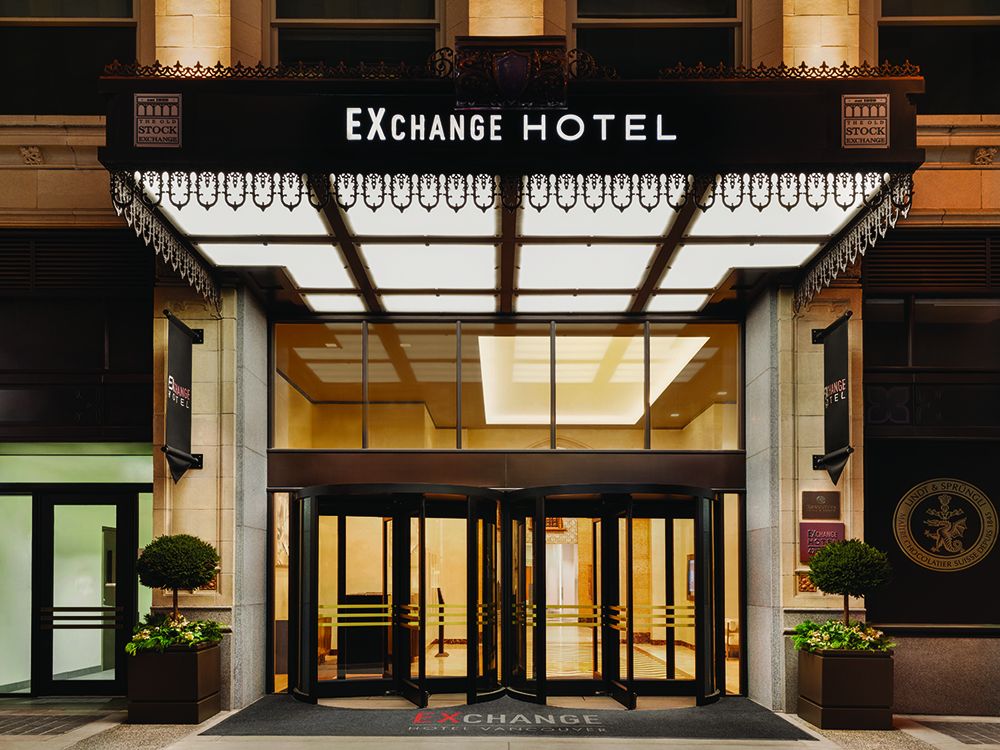 Check-in: EXCHANGE Hotel | Windsor Star
Reviews and recommendations are unbiased and products are independently selected. Postmedia may earn an affiliate commission on purchases made through links on this page.
Content of the article
Oh, if this barrel-vaulted hall could talk. There would be fables of fortunes won and lost. Stories of scams and scoundrels. Big stories of golden opportunities and whispered business secrets you don't want to miss.
Content of the article
From 1929 to 1947, this vestibule witnessed the comings and goings of the city's business elite as the entrance to the Vancouver Stock Exchange building at 475 Howe Street. The building opened in the summer of 1929, just months before Black Monday and the stock market crash, and was designed by Fred Townley and Robert T. Matheson, architects who, half a decade later, would create their Magnum Opus, Vancouver's art deco city hall. . According to This Week in History reporter John Mackie, who wrote about the building in 2020, the stock exchange building was described as "Gothic" when it opened, but today is considered to be in the Deco style.
The Vancouver Stock Exchange is no more, having ceased operations in 1999, but the glorious building that served as a residence during the Depression and World War II still lives on as the EXchange Hotel, a 201-room 4-star hotel and suites, penthouses and an executive floor and a club lounge. And while few precious touchstones remain of the old financial centre, this glorious lobby does and welcomes guests entering the hotel from Howe Street. The medieval English heraldry and symbols that decorate the ceiling are as fresh today as they were nearly a century ago thanks to the painstaking work of a volunteer who spent hundreds of hours recreating the original. His labor was not in vain, as guests entering the lobby cast their eyes upwards as they waited for the elevator that would take them to the check-in floor. Some would even wait for the next elevator admiring the incredible details of the vaulted ceiling.
Content of the article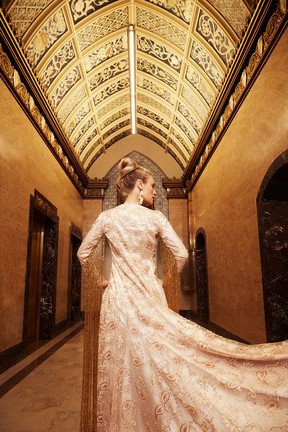 I don't know how many times I've walked past this building not realizing that such a historic piece of Vancouver was only a few feet away, so I also lingered a bit longer when I arrived for a stay at the Exchange Hotel. It turned out that this was not the only surprise encountered during my stay.
Boutique hotel hidden in plain sight
I don't know if it's the historic facade of this building on the corner of Howe and Pender, or the glass tower that now sits at the top, but like this artistic hall, I had no idea that a hotel- hipster shop was at this intersection. But make no mistake, from the moment you check in to the moment you open your room door for the first time and take in the surroundings, it's an elegant and sophisticated experience, with an art deco vibe mixed with both classic and 21st century coin trappings. There are L'Occitane amenities, Egyptian cotton bedding, 24-hour in-room dining, and a 50-inch LCD HD television with interactive Crave and free high-speed wireless. Outside of the regular rooms, there's a club suite floor and the private Dividend Club Lounge offering light breakfast and evening hors d'oeuvres with bar service. And yes, it is pet friendly.
Content of the article
Downtown is a thing again
Just as it was when it opened as a stock exchange in 1929, this location is right in the heart of Vancouver's financial and commercial district, the latter being a big selling point for staycationers who live in the suburbs or further afield and don't get downtown very often. But there is also, at least for me, an unexpected buzz around the city center on weekends. Part of this is the result of the return of cruise ships. Restaurants are bustling, the Coal Harbor Seawall is teeming with tourists and special events are back on the agenda. One I hadn't heard of surprised me because on a pre-dinner stroll I came across a large transparent cube in Jack Poole Plaza surrounded by makeshift viewing booths. Turns out the Canadian Squash Championships were in town and this venue looked like center court at Wimbledon. It certainly added to the energy in the streets.
Content of the article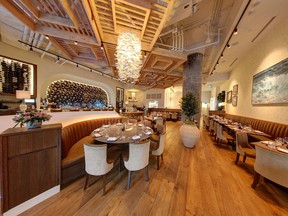 A taste of the Mediterranean
As with shopping and entertainment, dining is a big draw during a stay, and in downtown Vancouver, the biggest issue is deciding which fantastic restaurant to spend the night at. The good news for EXchange customers who love Greek food, the elevator is the only means of transport you will need. And again, with its second-floor location, you shouldn't be forgiven if you don't know much about Hydra Vancouver Estiatorio Mediterranean. I certainly didn't, but now when someone asks me where to eat downtown, that's my first response. This is fine Greek cuisine in a lively atmosphere with Greek waiters, an excellent and extensive Greek wine list and an atmosphere reminiscent of an Athens tavern. My well-traveled dining companion proclaimed the calamari among the best she's ever had, and the lamb main course on the short list as well. The restaurant also serves as a breakfast venue for hotel guests, with a traditional breakfast on offer.
Content of the article
Special, and then some
The final surprise for me was discovered while doing research for this story. Typically, a hotel offers a handful of packages, some seasonal, some more standard. Check the EXchange Hotel website (exchangehotelvan.com) and there are nearly 20, ranging from the classic Romantic, Bubbly Breakfast and Ben & Breakfast to the more eclectic Gas Card Package, Cruise into Comfort and Wine, Dine and Room is Fine packages.
After this stay, I'll never cross the intersection of Howe and Pender without speaking into the EXchange Hotel building – and if I'm not in a hurry, I might just pop in to check out the heritage lobby of the EXchange Hotel.