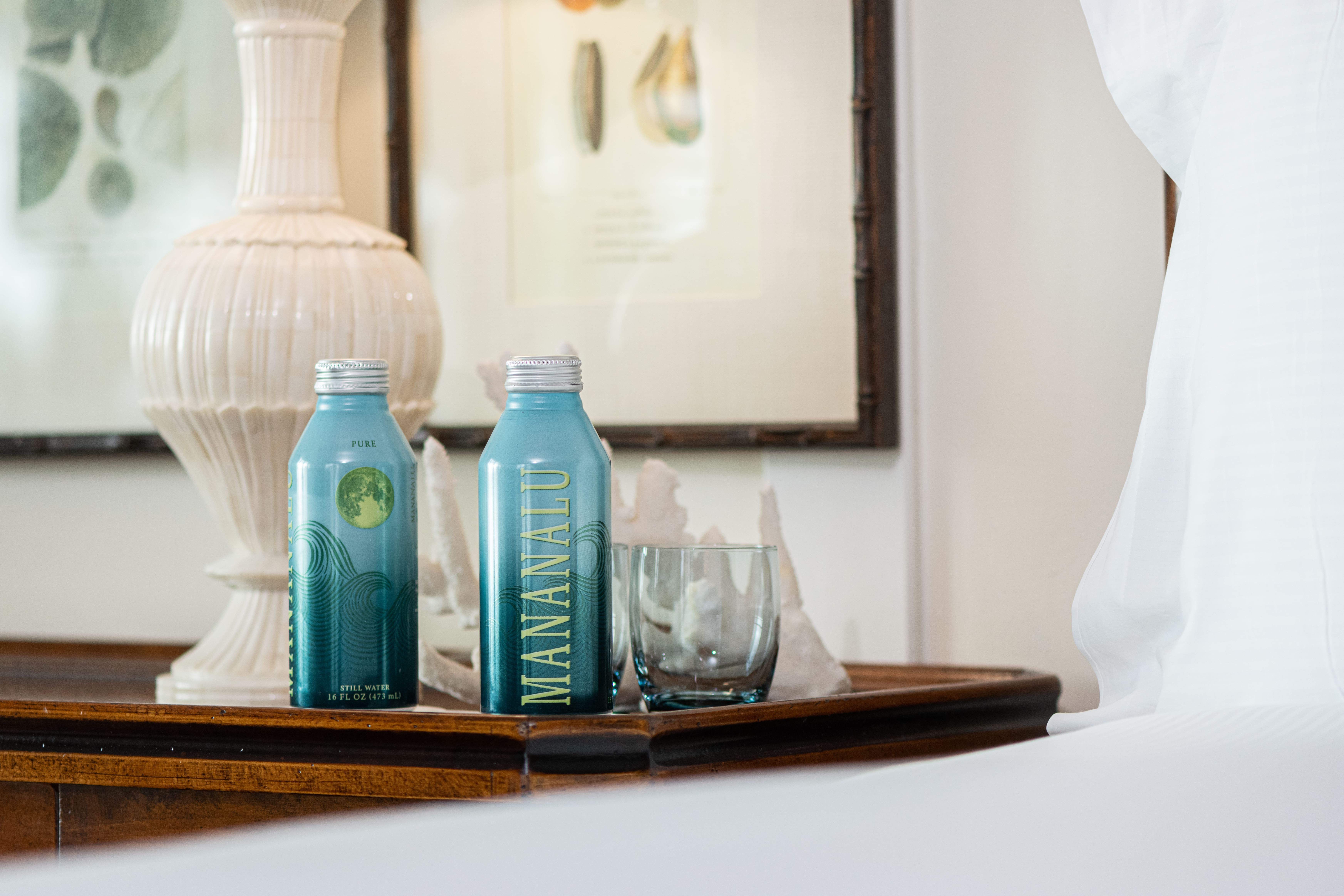 Hotel Casa del Mar and Shutters on the Beach incorporate Mananalu's aluminum water bottles into on-site sustainability initiatives

SANTA MONICA, CA (PRWEB)
February 14, 2022
Starting today, complimentary bottles of Mananalu are now available to guests staying at Hotel Casa del Mar and Shutters on the Beach, the crown jewels of the Edward Thomas Hotel Collection. These plastic alternatives will be made available to visitors at reception, in their rooms and at the swimming pool.
By packaging its water in aluminum bottles, Mananalu offers an infinitely recyclable option for situations where a reusable water bottle may not be possible, such as travel. And they further support the circular economy by removing the equivalent of a plastic water bottle from ocean waste for every bottle sold, while ensuring every new bottle is made from 69% recycled aluminum. .
"We are thrilled that Hotel Casa del Mar and Shutters on the Beach are joining our wave of change and taking a stand against single-use plastic water bottles, as they work with us in our efforts to protect the beautiful Santa Monica environment they call home," says Mananalu CEO David Cuthbert.
The integration of Mananalu's recyclable water bottles into the guest experience marks the latest action by Hotel Casa del Mar and Shutters on the Beach to increase on-site sustainability. Additional efforts include renewable energy initiatives, water conservation practices, employee incentives to encourage low-carbon transportation, recycling and waste reduction programs.
"We are delighted to partner with Mananalu in our ongoing efforts to promote sustainability practices at Hotel Casa del Mar and Shutters on the Beach," said Charlie Lopez-Quintana, Vice President and General Manager of Edward Thomas Collection of Hotels. "We are always looking for ways to minimize our carbon footprint and support our precious Santa Monica beach environment."
###
Media Contacts

Mananalu

Sanny Visser

[email protected]
Hotel Casa del Mar

PR Ballantines

[email protected]

(310) 454-3080
Shutters on the beach

Murphy O'Brien

[email protected]

(310) 453-2539
About Mananalu

Mananalu is a water brand whose mission is to enable the world to stop drinking with single-use plastics. "Mana" means the sacred spirit of life in Hawaiian. "Nalu" means a powerful wave that crosses the ocean. Founded by actor, environmentalist and Hawaiian native Jason Momoa, Mananalu is creating a wave of change and fighting plastic pollution by conserving water with infinitely recyclable aluminum. To learn more, visit http://www.mananalu.com or follow us on Instagram (@mananalu.water, #mananalumovement).
About Hotel Casa del Mar

Offering breathtaking views of the Pacific, Hotel Casa del Mar brings the luxury, romance and relaxation of a Mediterranean resort to the Southern California coast. Once an exclusive beach club in the 1920s, the hotel's timeless charm and elegance has remained. Designed by Michael Smith, the original lobby's high ceiling and dramatic windows provide spectacular sunsets and a scenic place to relax. The hotel has two restaurants, a lively lobby bar and lounge with nightly entertainment, luxurious inside cabins, an exclusive spa, fitness center and swimming pool exterior. With the most spectacular setting in Los Angeles and world-class amenities, Hotel Casa del Mar sets the standard for comfortable, laid-back luxury. The iconic resort has been recognized by Travel + Leisure's 2021 World's Best Awards as the best hotel in Los Angeles. For more information, visit https://www.hotelcasadelmar.com/.
About shutters on the beach

Both comfortable and luxurious, the famed Santa Monica Beach hotel is reminiscent of quintessential Cape Cod cottages, with shuttered doors opening onto airy balconies and a sunny pool deck filled with lounge chairs. 186 elegant rooms and 12 suites feature the residential-style designs of Michael S. Smith. The on-site Shutters on the Beach offers market-fresh dishes at 1 Pico Restaurant and the Coast Beach Café. Treat yourself to organic wellness rituals at ONE Spa and breathtaking views of the Pacific from every vantage point. For more information, visit https://www.shuttersonthebeach.com.
About the Edward Thomas Collection

The Edward Thomas Hotel Collection was founded in 1982 by third-generation hotel and real estate investors Edward and Thomas Slatkin, whose family previously owned the legendary Beverly Hills Hotel. In 1994, Beverly Hills-based ETC opened the exclusive Shutters on the Beach in Santa Monica. In 1999, after a more than $50 million renovation, ETC opened a hotel with a history as the "Grande Dame" of Santa Monica, Hotel Casa Del Mar. The sister luxury properties are the only hotels from the Los Angeles area located directly on the sand. ETC's leadership team includes partners and co-founders Edward and Thomas Slatkin and Klaus Mennekes, vice president and general manager of ETC Collection of Hotels. For more information, visit https://www.edwardthomasco.com.
###
Share the article on social networks or by e-mail: