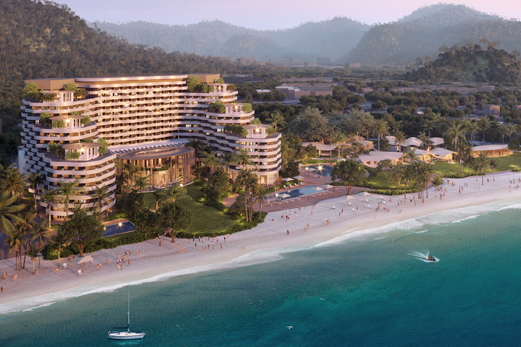 IHG signs a luxury hotel in Penang, Malaysia
(June 22, 2022, 11:13 +07)
IHG has signed an InterContinental resort in Penang, Malaysia.
The partnership with THR Hotel (Penang), a subsidiary of Tradewinds, will see the former Penang Mutiara Beach Resort in Teluk Bahang transformed into the InterContinental Penang Resort.
Scheduled to open in 2025, the InterContinental Penang Resort will feature 355 rooms and suites with up to three bedrooms as well as a private enclave of six villas.
Facilities will include a holistic wellness village with 10 treatment villas, a yoga studio and a relaxation pavilion; three swimming pools (including a children's pool); five restaurants and bars; 1,000 square meters of meeting and event space (including a glass marquee and private lawn for garden weddings and special occasions); and the brand's Club InterContinental Lounge with views of the Strait of Malacca.
InterContinental Penang Hotel
Muhammad Zainal Ashikin, Managing Director and Group Chief Executive, Tradewinds Corp, said: "Teluk Bahang holds a special place for us, and with it, the award-winning former resort Mutiara Penang. As such, we have taken the time to really plan for its revitalization, which included careful attention to finding the perfect partner who shares our vision for this incredible place and the rebirth of this great lady. We wanted to introduce a brand that holds the region's nature, culture and heritage in the same high regard we do, and I'm delighted to say that IHG was the only choice for us because of their proven track record in thoughtful realization of luxury destination concepts in various locations around the world.
A 30-minute drive from central Georgetown, InterContinental Penang Resort will be the second InterContinental hotel in Malaysia after InterContinental Kuala Lumpur, and marks IHG's return to Penang, with the upcoming Holiday Inn & Suites Penang Prai.
In Malaysia, IHG currently has six hotels across three brands: InterContinental, Holiday Inn and Holiday Inn Express. As of March 2022, the company has a portfolio of 10 hotels in Malaysia that are expected to open within the next three to five years, including: Crowne Plaza Kota Kinabalu, Crowne Plaza Kuala Lumpur City Centre, Hotel Indigo Kuala Lumpur on the Park , Kimpton Kuala Lumpur and Regent Kuala Lumpur.
"A city steeped in history and culture, Penang has strong demand for leisure and business travel, supported by the recent reopening of borders and the end of travel restrictions. We want to create the best resort destination in Penang, make it appealing to all types of customers and further strengthen IHG's brand presence in Malaysia in the luxury segment," said Serena Lim, Vice President, Development, Asia Southeast and Korea, IHG. "Having previously worked with Tradewinds on a number of properties in Asia, we are truly delighted to be partnering with them again with this flagship resort. We know they are as determined as we are to have a positive impact on our communities, and our common goal is to ensure that this project provides new economic opportunities and encourages many more travelers to visit this wonderful destination.
Recent interviews in HD video: HD Video Interviews of Miss International Queen 2022 in Pattaya, Thailand, [email protected] Design Hotel Pattaya – Interview with Clive Nagington, How winning Miss International Queen 2020 changed my life – Interview with Valentina Fluchaire, Miss International Queen 2022 – Interview with Alisa Phanthusak, MD of Tiffany's Show Pattaya, Mövenpick Siam Hotel Na Jomtien Pattaya – Interview with Dmitry Chernyshev, GM, Is Siam Seaplane ready to take off? Interview with Dennis Keller, Commercial Director, new CEO of Pattana Sports Resort in Chonburi, Thailand – Interview with Bodintorn Juangroongruangkit and
Sports Training and Fitness at Pattana Sports Resort in Chonburi, Thailand – Interview with Craig Wood.