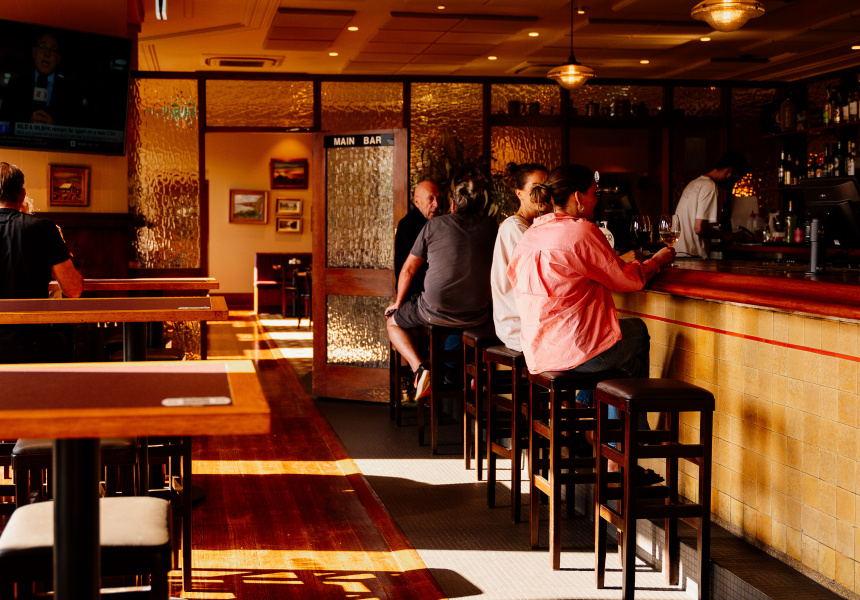 In a suburb of architectural gems, Armadale's Orrong Hotel prides itself. The 150-year-old art deco pub had been closed for almost two years when Matt Vero (who is also co-owner of Marquis of Lorne, Union House and the Mount Erica Hotel) and Scott Connolly (owner of Moe's Moore Street Tavern in the Latrobe Valley) took over custody in 2021. But bringing the old lady into a new era has always been more about restoration than renovation.
Connolly and the team worked with interior designer Bergman & Co (Poodle, Chancery Lane) on the fit-out, but found most of the charm was already there – just hidden away.
The false ceiling of the front bar has been removed, revealing the original molded plasterwork. The worn pub rug is also gone, leaving the previously hidden floorboards to shine – or replaced with a fresh rug resembling a 70s-style sweater your mom would make you wear (in the best way).
Where significant changes have been made, they have been made with respect to traffic flow and accessibility. The old TAB has a fresh coat of paint and a wooden bar, while the cozy bar now opens up to a whole new courtyard. What was once the cold room for the bottle store has also been transformed into a billiards and games room.
Chef Phillip Latta (formerly of Bentleigh's Wolfe & Malone) runs the kitchen, with a menu that focuses on classic pub fare, but also draws on his wine bar experience.
For the basic chicken parma, 300-gram breasts are brined, breaded and fried until crispy, then topped with a braised tomato sugo, three cheeses and Virginia ham. The Philly cheesesteak uses in-house dry-aged Wagyu rump, and the range of pasta is handmade by Latta and his team.
Like any good boozer, the Orrong serves a weekday specialty cast. Come enjoy a marmite and parma on Wednesday, half a kilo of spicy wings on Friday and more. The Sunday Roast is also back, which changes weekly and comes with all the trimmings.