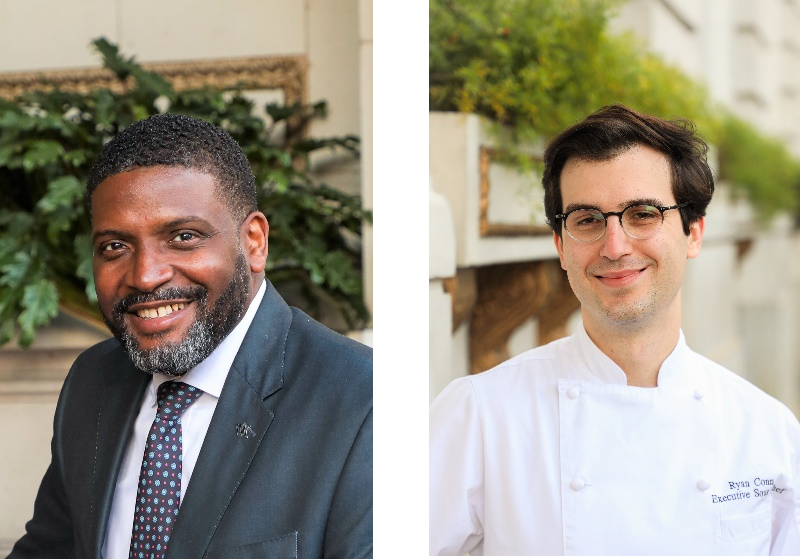 ROOSEVELT NEW ORLEANS ANNOUNCES NEW ADDITIONS TO HOTEL EXECUTIVE TEAM
The Roosevelt New Orleans, a Waldorf Astoria hotel recently announced two leadership additions to the luxury hotel team, with Cole Wallace being named Hotel Manager and the promotion of Chef Ryan Conn to Executive Sous Chef.
"Both Ryan and Cole bring a wealth of experience to their new leadership roles at the Roosevelt," said general manager Tod Chambers. "This hotel was built on the talent and expertise of its team, and we are thrilled to have Cole and Ryan on board as we chart the course for the future of The Roosevelt."
HOTEL MANAGER COLE WALLACE
Wallace joins the Roosevelt New Orleans with over 26 years of experience in the hospitality industry. In his new role as hotel manager at the Roosevelt, Wallace oversees all operations departments, including the rooms division, engineering, and restaurant operations. He says all of his efforts are aimed at delivering a seamless luxury guest experience, and he emphasizes positive energy with both key team members and guests.
Most recently, he was NEXCOM's Regional Vice President, Navy Lodge Program, helping manage nine hotels in the southern United States. He has also held various positions at Marriott, including Director of Operations at the JW Marriott in New Orleans, Director of Room Operations at the Atlanta Marriott Marquis, and Director of Services at the JW Marriott in Washington, DC.
Wallace holds a bachelor's degree from the University of Michigan. At the University of Michigan, he had several undefeated seasons as a defensive back for Wolverine, played in the Big Ten championship, and earned a Rose Bowl victory. He went on to earn a Masters in Business Administration from the College of William and Mary.
"The Roosevelt is an iconic hotel with a renowned reputation and heritage for delivering exceptional guest experiences with generations of guests returning year after year," Wallace said. "I look forward to working with and leading this incredible and dedicated team to continue delivering best-in-class guest experiences."
EXECUTIVE DEPUTY CHIEF RYAN CONN
Chef Conn joined The Roosevelt New Orleans as Banqueting Chef in 2019. In his new role as Executive Sous Chef, Conn leads the culinary team in the absence of Executive Chef Jason Schneider. He also oversees menu planning and production for the Roosevelt's catering events and functions, the hotel's multiple dining outlets, and the employee dining experience.
Growing up in a large family in southern Louisiana, Conn took an interest in cooking from an early age, gaining culinary experience at local family restaurants before leaving to study fine arts at the Rhode Island School of Design. and at Brown University. After graduating, he worked at La Provence in Lacombe, Louisiana. In New Orleans, he worked at the Windsor Court Hotel and later ran the kitchen at Satsuma Café, then the commissioner's kitchen at Surrey's Café. Conn says he is inspired by his mentor, Roosevelt chief executive Jason Schneider, and his predecessors.
"As a timeless luxury hotel, The Roosevelt has a mystique that fuels my culinary passion," said Chef Conn. "I can't exactly put it into words, but maybe it has something to do with the league of chefs who have worked here over the last century with their amazing menus paying homage to classic techniques or the countless dinners and social events held in the beautiful Blue Room.I am delighted to walk in the shoes of my predecessors and pave the way for future generations of chefs.
The Roosevelt New Orleans, A Waldorf Astoria Hotel is located at 130 Roosevelt Way, New Orleans, LA 70112. For reservations, please visit The Roosevelt of New Orleans website or call +1-504-648-1200. Follow the hotel on Facebook, instagramand Twitter.
Learn more about Waldorf Astoria Hotels & Resorts at newsroom.hilton.com/waldorfastoria.