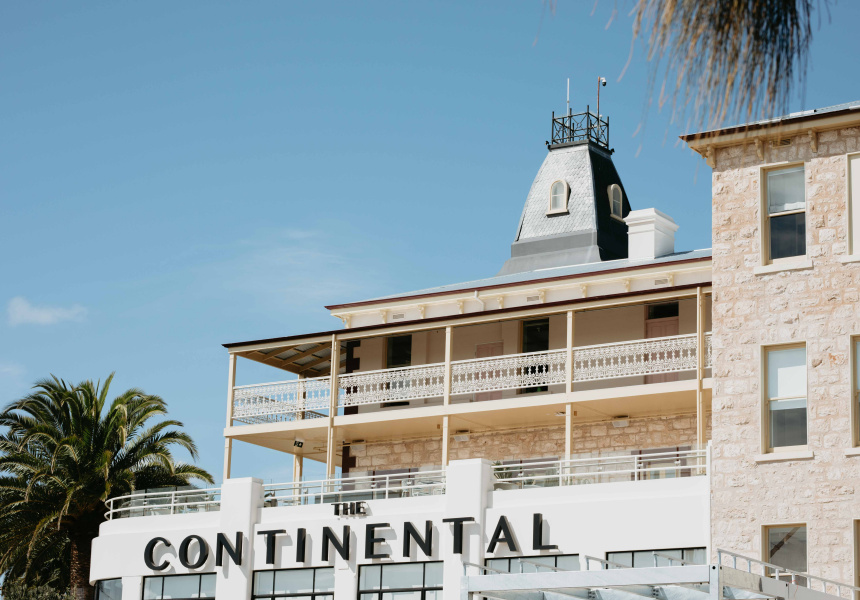 Sorrento's grand old lady, Hotel Conti, reopens on Tuesday – Here's your first look at the monumental new public bar and beer garden
As a part-time Sorrento resident, publican Craig Shearer (Fitzroy North's Terminus Hotel, Brisbane's Plow Inn) spent years walking past the Continental Hotel – or the Conti, as it's known – while he slept, wondering what would become of the limestone icon. . The old lady is one of the first things you see when walking up the main street from the beach.
"Like so many others, I have stories from the great old days of Conti", he says Large format"visiting as a youngster and spending many late nights there."
Little did he know at the time that he and famed Melbourne chef-restaurateur Scott Pickett (Chancery Lane, Le Shoppe, Matilda, Estelle, Longrain, Smith St Bistrot) would be key players in the rebirth of the Mornington Peninsula destination.
Embarking alongside Melbourne-based architecture studio Woods Bagot, Shearer and Pickett have spent the past few years helping revive the nearly 150-year-old mega-place, which is believed to be one of the largest limestone structures in the southern hemisphere.
Now, after more than $100 million in renovations and a series of delays, what is now called The Continental Sorrento – one of the state's most anticipated venues of the year – will finally open its patio doors. French to the public on Tuesday 29 March.
"The design and construction did justice to one of my favorite buildings on the peninsula," says Pickett. "It has been rebuilt to regain its former glory."
The sprawling and imposing property is made up of six levels, five buildings and three parts, with a range of specially designed areas: an InterContinental hotel with 108 luxury rooms, a Mediterranean-inspired pool terrace and a spa and public baths – the opening, the date of which has not yet been announced. But there are also a host of food and drink venues opening from next week, including a brand new public bar where the original Conti was located.
Also called the Conti, it keeps the affectionate nickname alive. It dominates the ground floor of the property, with a warm, old-world feel, and restored original limestone and wood. "It was a daunting task," says Pickett. "They had to rebuild them with certain stones from certain areas in line with Heritage Victoria."
But the effort paid off. It's glamorous yet timeless, with heritage walls, terrazzo flooring, copper accents, and a large burgundy marble bar. Framed mirrors and photos of Sorrento's bygone era line the walls, and window benches overlook the glittering seaside town's main street. There's also a lush outdoor boardwalk that runs along Ocean Beach Road.
The menu represents a large part of Pickett's repertoire. Find pub classics (parma, burgers, pasta), Josper-grilled meats, wood-fired pizzas and a few dishes imported from Longrain, the most notable of which is the betel leaf garnished with smoked trout, galanga and a touch of lime. On the extravagant side, there are seafood platters for two, crawfish with all the trimmings, and caviar with blinis and traditional garnishes for $250.
Meanwhile, cocktails, wine and mostly local beers will be curated by the Speakeasy Group, which is behind Eau de Vie, Mjolner, Boilermaker House, Nick & Nora's and Pearl Diver.
When the bar fills up, you can spill into the adjoining beer garden, a striking, light-flooded space designed for enjoyment in all seasons; there is a magnificent vaulted glass ceiling and a beautiful fireplace. Far more seaside than Bar Conti — with wicker seating, picnic tables, and greenery throughout — it's perfect for settling in with a spritz.
The ground floor is completed by Barlow, a lavish late-night speakeasy offering all kinds of live entertainment. It was inspired by the hotel's founder, George Coppin. "George was a pretty theatrical guy who also started a theater here," Shearer says. "He performed in many performances and his stage name was Billy Barlow." Launching in the coming weeks, it will host a diverse range of artists, from comedians to bands and DJs.
Audrey's, Pickett's first regional restaurant, which will open Friday, April 1, is named after his grandmother, who he says inspired him to cook. With striking views over Port Phillip Bay, everything will be old-world opulence and seafood, including a raw marble bar.
The Conti beer garden and bar will open on Tuesday 29th March. Other food and beverage venues will open in stages throughout the week.
Mainland Sorrento

1-24 Ocean Beach Road, Sorrento
Hours:

Daily from 11 a.m. to late
thecontinentalsorrento.com.au
This article was updated at 12:35pm on March 25 to reflect a change in the opening date of the Conti Bar and beer garden.