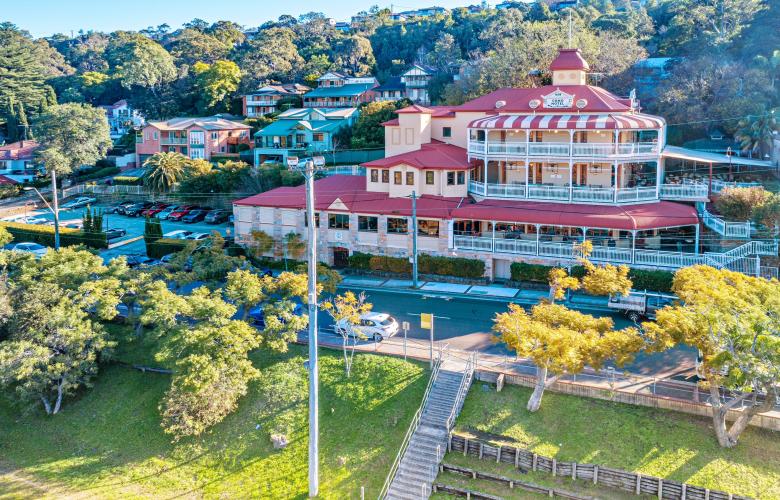 The Great Old Lady of the Shire for sale by HTL Property
Top hotel brothers Bill and Mario Gravanis of Oscars Hotels have listed their award-winning Sutherland Shire property, The Como Hotel, for sale exclusively through Dan Dragicevich, Andrew Jolliffe and Sam Handy of HTL.
Perched high and proud on an imposing surface of 3,000 m²*, the majestic property extends over four levels, enjoying panoramic views of the water and the leisure park from its balconies.
With views that will never be built, this is an amazing opportunity in one of Sutherland Shire's family suburbs.
The hotel benefits from a following community with an exclusive shopping base in Como as well as the surrounding suburbs of Oatley and Oyster Bay. Swapping a solid public bar and a family bistro, the operation also includes a self-contained top-floor reception hall, which has the capacity to trade as a separate entity.
The Shire is known for its consolidated ownership, which means assets rarely appear. The area is under-publicized compared to the rest of Sydney and generally the large format theaters are still strong traders and in turn tightly held" noted Dan Dragicevitch
"Domestic hotel market activity over the past four weeks has indicated a distinct allergy to some of the other valuation headwinds associated with other asset classes, and our pipeline to year-end is proportionately solid" concluded HTL Property Managing Director Andrew Jolliffe.
The hotel is sold via expressions of interest on the market which closes on Thursday, September 15 at noon (unless sold beforehand).
*about.
To request a copy of the Information Memorandum, please contact one of HTL's marketing officers, Dan Dragicevich, Andrew Jolliffe and Sam Handy using the contact details below.