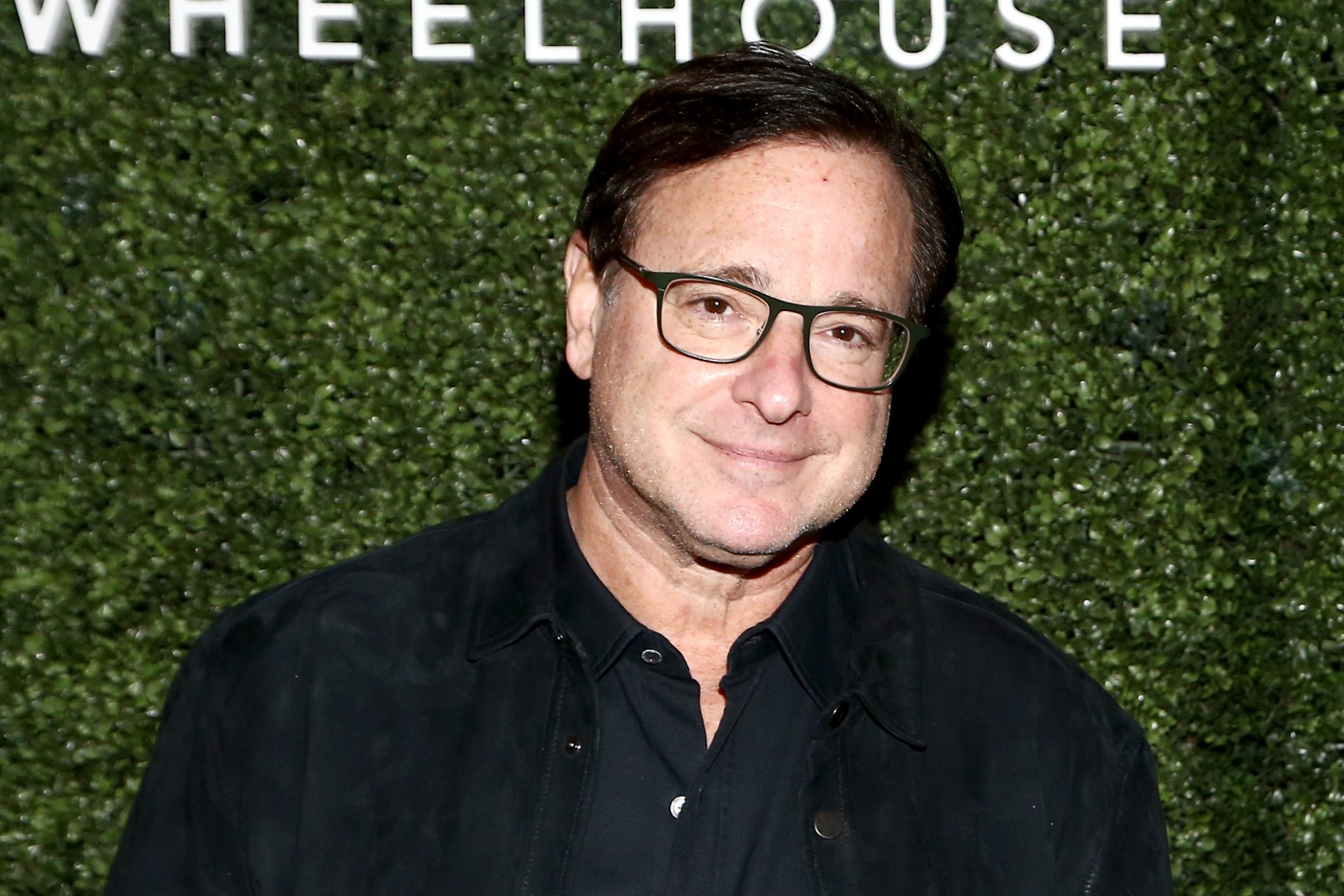 Why the photos of the rooms of the Bob Saget hotel were published after the court injunction
More than 50 photos of the hotel room in which Bob Saget died have been released by authorities, a week after his family received a permanent injunction to block the publication of certain details of the investigation.
The beloved comedian, 65, was found dead in his hotel room at the Ritz-Carlton in Orlando, Florida on January 9, hours after performing in a stand-up show. Saget's family said last month that he died after he 'accidentally hit the back of his head on something, didn't think about it and fell asleep'.
According Peoplenewly released photos show the bedroom in pristine condition, with his neatly made bed and cell phone, glasses alongside two bottles of water on a bedside table.
A privacy sign was pictured lying on the floor inside the hotel room, the magazine reported, while her toiletries sat on a counter and a trash can held discarded face masks.
In addition to redacted police body camera footage, the full report also includes what is believed to be the last photo of Saget alive. A fan took the picture outside the hotel at 2.13am, hours before he was found dead.
For those following the inquest surrounding Saget's death, the release of the footage may prove somewhat confusing, given that it was announced last week that his family had received a permanent injunction to keep details of the incident confidential. investigation.
In February, Saget's widow, Kelly Rizzo, and her daughters, Aubrey, Lara and Jennifer, sued Orange County Sheriff John Mina and the District Nine Medical Examiner's Office, both in Florida, in an attempt to keep investigation files sealed.
Saget's family argued that disclosing details of parts of the probe "would cause irreparable harm in the form of extreme mental pain, anguish and emotional distress".
At the time, they also requested that photographs, videos, audio recordings and other materials collected in connection with Saget's death be exempt from public request records.
Circuit Court Judge Vincent Chiu immediately granted a temporary injunction, before ruling last week that the order would be made permanent.
However, the Orlando Sentinel reported last week said that while officials had taken 147 photos during their investigation, 57 of them would not be protected by any legal exemptions.
According to the incident report shared last week, the autopsy conducted by Chief Medical Examiner Joshua Stephany, MD, said Saget's head injury could have been caused by "a fall on a carpeted floor ".
Stephany added: "The headboard was lightly padded and slightly away from the wall. These are listed here as possible mechanisms of injury, but nothing has been located in the room that allows for a definitive conclusion."
Attorney Judd G. Rosen, of the Miami law firm Goldberg and Rosen, previously said Newsweek that while the public might view the family's move as an attempt to hide dirty secrets, it's likely nothing more than their desire to protect her dignity.
"At this point, you have to respect the family's desire to keep everything private," Rosen explained. "And they could have endless reasons for wanting to keep this private… The family doesn't need to give a reason for their desire to keep this information private."
Twenty-six states have laws that directly address the disclosure of autopsy reports, "and Florida is not one of them," Rosen continued. "Florida Law 119, which is our public records law, is the policy of the State of Florida that public records are open to public inspection…However, a court may limit such access in certain circumstances. "
After obtaining the injunction, Saget's family said in a statement: "The entire Saget family is grateful that the judge granted his request for an injunction to preserve Bob's dignity, as well as their right to privacy, especially after suffering this unexpected and tragic loss.
"We are delighted that this issue has been resolved and the healing process can continue to move forward. All of the continued prayers and well wishes for the family are more than appreciated."